FOR OVER 25 YEARS WE HAVE HAD THE PRIVILEGE OF WORKING WITH OUR NATIONS' GREATEST COMEDIANS, MUSICIANS, COMEDY WRITERS, PRODUCTION ARTISTS, TECHNICIANS AND LEADING CULTURAL INSTITUTIONS.
WE STRIVE TO PROVIDE A POSITIVE, CREATIVE ENVIRONMENT FOR THE ARTISTS WHO WE SERVE AND FOR THE CREATIVE COMMUNITY WHO WE WE WORK WITH USING THE BEST TRADITIONAL AND STATE OF THE ART PRODUCTION PRACTICES.
A SUCCESSFUL PRODUCTION ALSO MEANS THAT THE VERY REAL NEEDS OF ARTIST MANAGERS, AGENTS, PUBLICISTS, ARTIST TEAM MEMBERS AND NETWORK PARTNERS (ON AIR AND ONLINE) ARE MET WITH CARE AND ATTENTION. "IT TAKES A VILLAGE TO MAKE A TV SHOW".  
WELCOME TO COMEDIA.

LINDA MENDOZA IS EQUALLY AT HOME DIRECTING MUSIC OR COMEDY. NOMINATED THREE TIMES FOR A DGA AWARD, MOST RECENTLY FOR "THE 20TH ANNUAL MARK TWAIN PRIZE, CELEBRATING THE HUMOR OF DAVID LETTERMAN.   

BOB KAMINSKY HAS A HANDS ON APPROACH TO PRODUCTION DESIGN, EDITING, 
LIVE RECORDING AND MIXING. "A PRODUCERS #1 JOB IS 
TO PROVIDE A SAFE AND CREATIVE ATMOSPHERE FOR 
PERFORMERS BY PAYING ATTENTION TO EVERY DETAIL 
SO THEY CAN DO THEIR BEST WORK.
"
LINDA MENDOZA 

(DIRECTOR) IS FROM DETROIT, MICHIGAN. WHILE ATTENDING WAYNE STATE UNIVERSITY AND MAJORING IN SOCIOLOGY, SHE LANDED HER DREAM JOB… WORKING AT PEACHES RECORDS AND TAPES IN HOLLYWOOD.
WITH MORE FREE T-SHIRTS, ALBUMS AND CONCERT TICKETS THAN ANY 20 YEAR OLD COULD ASK FOR, LINDA MOVED TO LOS ANGELES. BUT NOT TO MAKE MOVIES OR TELEVISION, SHE, CAME TO WORK IN A RECORD STORE ON HOLLYWOOD BLVD!
WHEN THE RECORD BUSINESS CHANGED AND HER STORE WAS CLOSING, SHE INTERVIEWED FOR A JOB AT METROMEDIA, CHANNEL 11, AS A TELEVISION PAGE. FEMALE AND MEXICAN, SHE FILLED A QUOTA THAT THE INDUSTRY WAS TRYING TO MEET.  FROM THERE, SHE DECIDED TO TRY PRODUCTION, STARTING IN MULTI-CAMERA/ VARIETY, SHE WORKED HER WAY UP, THE OLD FASHIONED WAY, WITH LONG HOURS AND VERY LITTLE SLEEP AS A PA.  SHE WOULD BECOME THE PRODUCTION SUPERVISOR/ASSOCIATE DIRECTOR ON A NUMBER OF HIT SKETCH SHOWS INCLUDING "IN LIVING COLOR", "SATURDAY NIGHT LIVE", "HOUSE OF BUGGIN' AND WOULD EVENTUALLY DIRECT "MAD TV". 
SHE GOT HER DIRECTING BREAK ON "COMEDY FROM THE DANGER ZONE", WITH BOB, AT THE MONTREAL COMEDY FESTIVAL!  IT WOULD BE THE "CHRIS ROCK SHOW" ON HBO THAT WOULD HELP HER TRANSITION TO FULL TIME DIRECTING.
HER NARRATIVE SKILLS WHEN SHE BECAME ONE OF THE HOUSE DIRECTORS ON "The Bernie Mac Show" in 2000.
TRYING TO EXPERIENCE LIFE FROM THE OTHER SIDE OF THE CAMERA CAME HER ONE-WOMAN SHOW "CURSED, MY ROAD TO HOLLYWOOD". 
IN IT SHE TELLS THE STORY OF HOW A MEXICAN WOMAN FROM DETROIT, WHO EVERYONE THOUGHT WAS CHINESE, MADE IT AS A WORKING TELEVISION DIRECTOR IN HOLLYWOOD. 
IT RECEIVED RAVE REVIEWS IN 2015 AT THE HOLLYWOOD FRINGE FESTIVAL.
LINDA MENDOZA IS EQUALLY AT HOME DIRECTING LIVE MUSIC OR COMEDY, SINGLE CAMERA OR MULTI  CAMERA VARIEY, SKETCH OR SCRIPTEF SHE LOVES THE DIVERSITY HER WORK BRINGS HER.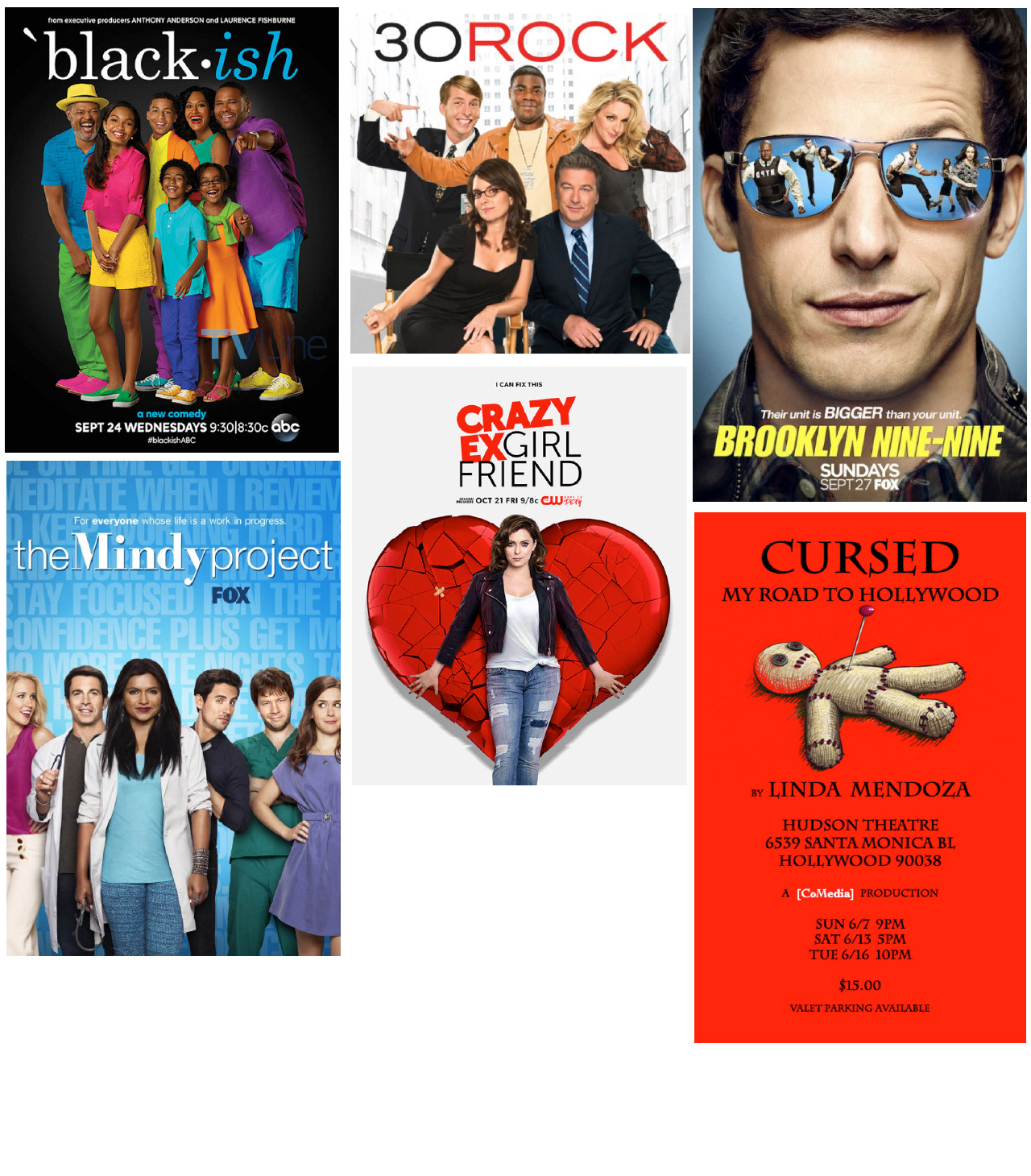 BOB KAMINSKY  
FROM CONCERT HALLS TO COMEDY CLUBS, CONVENTION CENTERS, OPERA HOUSES, BROADWAY THEATERS AND COUNTY FAIRS, BOB KAMINSKY ( CoMedia) HAS PRODUCED MUSIC AND COMEDY SHOWS FOR OVER 30 YEARS. HE IS A CREATOR AND EXECUTIVE PRODUCER OF "THE KENNEDY CENTER MARK TWAIN PRIZE", REFERRED TO AS OUR NATIONS HIGHEST AWARD FOR COMEDY, NOW IT'S 20TH YEAR. HE PRODUCED "JUST FOR LAUGHS" THE MONTREAL COMEDY FESTIVAL GALAS FOR MANY YEARS AND WAS A PRODUCER OF BETTE MIDLER'S GRAMMY NOMINATED COMEDY ALBUM "MUD WILL BE FLUNG TONIGHT: IN SOME OF YOUR FAVORITE FACES". COMEDY HAS PRETTY MUCH BEEN THE FAMILY BUSINESS; HIS FATHER, LUCIAN, WAS A WRITER ON THE JACKIE GLEASON SHOW AND HIS BROTHER, PETER, WAS THE EDITOR OF THE NATIONAL LAMPOON.
HE IS ALSO A CREATOR OF "THE LIBRARY OF CONGRESS GERSHWIN PRIZE FOR POPULAR SONG" AND HAD THE HONOR OF PRODUCING SEVEN INSTALLMENTS OF  "IN PERFORMANCE AT THE WHITE HOUSE": PAUL MCCARTNEY, STEVIE WONDER, BURT BACHARACH, CAROL KING, "A TRIBUTE TO GOSPEL" WITH ARETHA FRANKLIN, "A CELEBRATION OF AMERICAN CREATIVITY" (IN HONOR OF PRESIDENT JOHNSON SIGNING THE LEGISLATION CREATING THE NATIONAL ENDOWMENTS OF THE ARTS AND HUMANITIES) AND "SMITHSONIAN SALUTES RAY CHARLES". ADDITIONAL SELECTED CREDITS INCLUDE "THE GRAMMY AWARDS", "THE NEW ORLEANS JAZZ AND HERITAGE FESTIVAL" AND "FARM AID".  SERVING AS A DIRECTOR OF A&R AT A&M RECORDS FOR A NUMBER OF YEARS, HE SUBSEQUENTLY TRAVELED ACROSS AMERICA PRODUCING MORE THAN 500 RECORDINGS FOR THE LEGENDARY RADIO CONCERT PROGRAM (S) "THE KING BISCUIT FLOWER HOUR", "THE SILVER EAGLE CROSS COUNTRY MUSIC SHOW" AND "MUSIC OF AMERICA".
IN ALL OF HIS PROJECTS HE TAKES A HANDS ON APPROACH TO PRODUCTION DESIGN, EDITING, LIVE RECORDING AND MIXING AND SAYS THAT "A PRODUCERS MOST IMPORTANT JOB IS TO PROVIDE A SAFE AND CREATIVE ATMOSPHERE FOR PERFORMERS BY PAYING ATTENTION TO EVERY DETAIL SO THAT ARTISTS CAN DO THEIR BEST WORK FOR THEMSELVES AND FOR THEIR FANS."
HE IS ALSO A FOUNDER AND EXECUTIVE DIRECTOR OF THE TUNESMAP EDUCATIONAL FOUNDATION, AN INTERNET BASED EDUCATIONAL PLATFORM, WHICH PROVIDES NON-PROFIT COLLABORATORS SUCH AS MUSEUMS AND UNIVERSITIES THE ABILITY TO PRESERVE THEIR MUSIC-CULTURALLY RELATED HISTORICAL EXHIBITS.
A LIFE-LONG MUSICIAN, BOB IS A MEMBER OF THE WRITERS GUILD, DIRECTORS GUILD, TELEVISION ACADEMY, AND HAS SERVED AS A MENTOR AT THE AFI DIGITAL LAB AND THE USC ANNENBERG INNOVATION LAB.